Food allergies can be challenging but there are a lot of options for gluten free dairy free breakfasts. I've created a list of easy, delicious, healthy recipes and no recipe needed ideas for busy mornings.
I also include lists of gluten free dairy products we like that you can buy at your local grocery store. So whether you are on an elimination diet or you are strictly gluten and dairy free this list will help you navigate your breakfasts.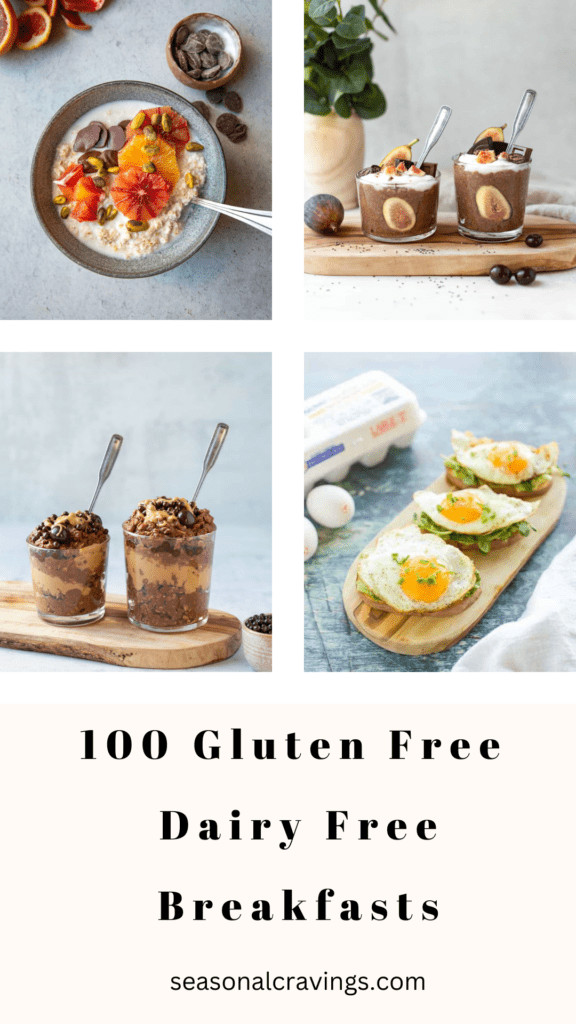 Many of these can be whipped up in twenty minutes or made ahead of time for a grab-and-go breakfast. You always have time for a healthy breakfast for the whole family!
This post contains affiliate links.
What Ingredients To Avoid When Dairy Free
There are several reasons why people may choose a dairy free diet. The main issue with dairy is that it can cause inflammation. Some people are lactose intolerant while others have a milk allergy. Other people find that going dairy free can help with acne or sinusitis.
You will notice that eggs are NOT considered a dairy product. There has been much confusion over this but even though they are an animal by product they are not considered dairy products. They contain no lactose.
When you are dairy free you have to avoid butter, cream, milk, and any products containing these milk products. Learn more at Johns Hopkins Medicine.
Carefully read ingredient labels and look out for words like these:
butter, butter fat, artificial butter

casein

cream

cheese

ghee

lactose

milk

sour cream and yogurt

whey
Check out my Gluten Free Guide to learn more about how to start a gluten free diet.
Gluten Free Dairy Free Breakfasts
Oatmeal
Oats are a nutrient-dense and filling way to start your day. They can be made quickly and easily in the microwave or stovetop and then topped with lots of healthy toppings.
Put together some of your favorite dairy-free topping combos and eat oatmeal with me! Oatmeal is gluten-free as long as the label clearly states it. See my list of 45 Healthy Oatmeal Toppings.
Almond milk is our go-to non-dairy milk for making oatmeal.  Personally, we love Califia Unsweetened Almond Milk and for chocolate chips, we like Enjoy Life Foods because they are gluten and dairy free. 
Gluten Free Dairy Free Oatmeal
Pancakes & Waffles
When baking dairy free you can usually substitute vegan butter for regular butter.  If a recipe calls for dairy milk just use almond, coconut, rice, or cashew milk.  
Gluten Free Dairy Free Pancake and Waffle Mixes
Gluten Free Dairy Free Ready Made Pancakes and Waffles
Gluten Free Dairy Free Muffins and Muffin Mixes
Gluten Free Dairy Free Cereal
Cheerios

Barbara's Corn Flakes

Three Wishes 

Panda Puffs

Catalina Crunch

Nature's Path Organic Mesa Sunrise

Seven Sundays

Iwon Organics Protein Crunchies
Gluten Free Dairy Free Yogurt
Siggis Yogurt – our favorite!

Oui By Yoplait

Harmless Harvest Coconut Yogurt

Silk Dairy Free Soy Alternative

Silk Almond Milk Coconut Alternative

So Delicious Coconutmilk

Cocoyo Living Coconut Yogurt

Stonyfield Organic Dairy Free Yogurt

Kite Hill Almond Milk Yogurt

Forager Dairy Free Cashew Milk Yogurt
Gluten Free Dairy Free Granola
Best Gluten Free Dairy Free Breads
Toast is the perfect gluten free dairy breakfast. You can top it with so many healthy toppings to get you through your day.
Try avocado and everything bagel seasoning, natural peanut butter, fresh diced berries, or a fried egg and bacon.
Oatmeal Recipes
Loaded Blueberry Oatmeal
Pumpkin Baked Oatmeal
Chocolate Peanut Butter Oatmeal
Healthy Oatmeal Toppings
Blood Orange and Chocolate Oatmeal
Fried Apple Oats
Apple Cinnamon Overnight Oats
Overnight Pumpkin Oats
Cranberry Chocolate Overnight Oats
Chia Pudding Recipes

Chia seeds are nutrient-dense and naturally gluten and dairy free. Chia pudding is simply made by mixing chia seeds with almond, coconut, cashew, or rice milk and letting it set in the refrigerator for several hours. Hello, healthy fats!
Then you can top it with delicious dairy and gluten free toppings or even add mix-ins.  Make it on Sunday and eat healthy breakfasts all week.
Chocolate and Fig Chia Pudding
Blackberry Chia Pudding
Kiwi and Raspberry Chia Puddin
Smoothie Recipes
Smoothies can easily be made gluten free and dairy free by using almond, coconut, or cashew milk as your liquid.  Just watch out for protein powders as they often contain dairy products like whey. 
Smoothies are a super healthy way to start your day especially if you add greens and vegetables to your smoothies.  Try not to add too much fruit or you will load up on carbs and calories.
Learn more about making green smoothies here with my Green Smoothie Recipes for Beginners.
Blood Orange, Mango and Turmeric Smoothie
Keto Avocado Chocolate Smoothie
Strawberry Peanut Butter and Banana Smoothie
Blueberry Spirulina Smoothie
Watermelon Peach Smoothie
Cold Buster Citrus Smoothie
Strawberry Banana Smoothie Bowl
Blackberry Cobbler Smoothie
Raspberry Smoothie Bowl
Matcha Smoothie Bowl
Cranberry Orange Smoothie
Pomegranate Smoothie Bowl
Egg Recipes
Eggs are extremely versatile and high in protein so they are the perfect addition to your dairy free breakfast routine.  We love having boiled eggs on hand for on-the-go breakfasts and quick easy snacks during the week.
Breakfast casseroles are also a good option just be sure to use non-dairy milk and either no cheese or dairy free cheese. Fresh herbs really help to perk up egg dishes and add flavor.
Instant Pot Hard Boiled Eggs
Baked Avocado with Egg
Sweet Potato Toast with Eggs
Bacon and Egg Cups
Baked Sweet Potatoes with Eggs
Quinoa Breakfast Bowl with Egg
Paleo Quiche Cups
Paleo Blueberry Pancakes
Chocolate Chip Almond Flour Muffins
Gluten Free Breakfast Cookie
Quiche Cups with Tomato and Prosciutto
Five Ingredient Blender Muffins