So, you're thinking about purchasing, or you currently have, an HMO health insurance plan. You read the nice brochure and the coverage looks like just what you've been looking for. They tell you great things up front, and show you pretty color pictures of happy people using their plan. So what could be wrong? Why not purchase their plan? There are a number of things that they tell you that are 1/2 truths, and the most important things they will not tell you at all. If you already have an HMO, compare the 10 points below to how you have been treated with your plan. It should help make sense of it all. If you are thinking of purchasing one, beware.
1. "The less your doctor sees you, the more he earns." – One of the great things about joining a health maintenance organization is the convenience. You visit the doctor, the HMO pays for it. Most of the time there is not a single form you fill out. But how is your HMO doctor really getting paid? You might be surprised.
Sixty percent of all managed-care plans, including HMO's and preferred provider organizations, now pay their primary-care doctors through some sort of "capitation" system, according to the Physician Payment Review Commission in Washington, DC This is, rather than simply pay Any bill presented to them by your doctor, most HMOs pay their doctors a set amount every month- a fee for including you among their patients. At Chicago's GIA Primary Care Network, for instance, doctors get $ 8.43 each month for every male patient between the ages of 25 and 44, and $ 10.09 for every female patient between the ages of 20 and 24.
You could argue that these capitation programs are an incentive to keep you healthy: Even if you do not need your doctor, he or she gets paid. But what you need to look out for are the additional financial incentives that come with some capitated payment systems. Some HMOs, such as Oxford Health Plans, Cigna and Aetna, have "withhold" Systems, in which a percentage of the doctors' monthly fees are withheld and then reimbursed if they keep their referral rates low enough. Others, like US Healthcare, pay bonuses for low referral rates. Still others, such as Health Net, have so-called risk pools, whereby primary doctors get a lump sum on top their capitation rate to pay for any patent test or specialist referrals. Anything left over is their bonus. "Capitation is the strongest reason not to recommend a patient to specialist," contends Carolyn Clancy, director of the Center for Primary Care Research at Agency for Health Care Policy and Research in Rockville, Md.
The pressure to avoid specialist can be considerable, says Dr. Lee fisher, a family physician in West Plan Beach, Fla. When he was with CareFlorida, a regional HMO, it was withholding 20 percent of his pay every month, coughing up the money only if he kept referrals low or did not …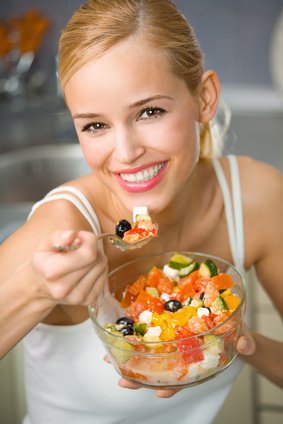 Being vegetarian or vegan is a great life choice. You aren't contributing to the horrific treatment of animals or the environment and generally speaking you are being kinder to your body. However when it comes to weight loss it can feel like a real struggle. After all you can hardly go on a one of the famed high protein, low-carb diets. They may be somewhat effective for temporary weight loss, but they are not healthy and the food is not often veggie friendly.
The good news is that with a little guidance it is not hard to transform your junk food veggie/vegan lifestyle into a healthy food plan that will fill you with energy whilst helping you lose weight and make those meat eaters jealous.
To stick to any kind of weight loss/healthy eating plan it is important to stick to a few guidelines:
1. Keep it simple – Don't try to follow ridiculously complicated recipes. Look for a plan that is full of simple recipes, which are easy and fun to make.
2. Healthy, veggie food should be yummy – Don't suffer to lose weight. Look for a plan that shows you how to make your veggie meals delicious as well as healthy and allows for a few snacks. You won't get very far feeling deprived.
3. Keep it cheap – There is no point breaking the bank when tasty, healthy meals can be made for cheap. If it is too expensive you won't be able to maintain it (unless you are rich of course).
4.Clear and Easy to Follow – Any veggie meal plan you choose should be laid out so that you know exactly what to eat, when for maximum energy and weight loss.
5. No fads! – You have already chosen to go veggie, which is great and totally the right thing to do for the animals. Don't ruin things by going for faddy diets. Instead look for something that will fit in with your life.
One of the best ways to encourage others to go veggie is to set a great example by looking and feeling great. Invest in a great veggie cook book and make yourself simple and delicious and filling meals. You enjoy food more and lose weight as you feel the need to snack less.
If you need a little more help you could try a program I follow called Easy Veggie Meal Plans. I find it very easy to follow and have had good results. Click here to check it out. …