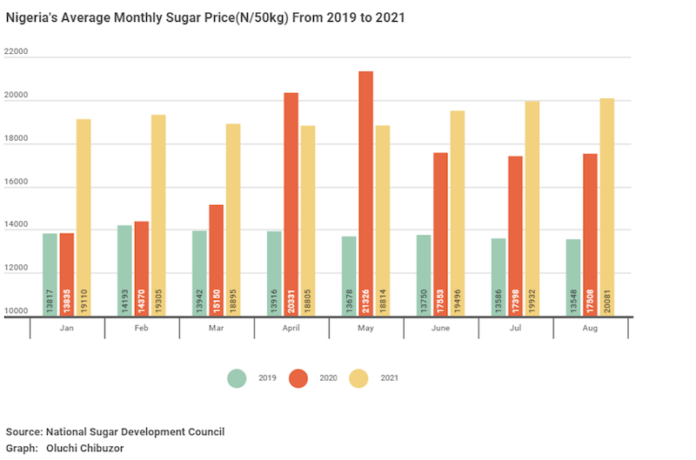 The global honey industry is estimated at $10bn, an industry that Nigeria can harness by empowering traditional bee keepers in the country. Oluchi Chibuzor reports that such intervention will undoubtedly denote the Federal Government's backward integration initiatives
In spite of Nigeria's lukewarm attitude, beekeeping has emerged a multibillion global industry that is offering invaluable benefits to the health of humanity. The industry is important in terms of food security, poverty reduction, health, environmental protection and plant pollination. Indeed, the global market demand for honey and other hive products has increased tremendously in recent decades since discovery of its importance in a wide variety of uses and applications.
Last year, the global honey market size was valued at $9.21 billion and is projected to grow at a compound annual growth rate (CAGR) of 8.2 percent with demand for nutritious food products, such as honey, on account of growing awareness about the benefits of maintaining a healthy lifestyle.
Honey is an excellent source of numerous nutritional ingredients, including vitamins, minerals, calcium, and antioxidants and has been noted to possess several medicinal properties that can help improve metabolic activities, maintain blood pressure levels, reduce the risk of diabetes, and can even heal burn wounds.
Thus, honey is widely used in many applications apart from food & beverages, such as cosmetics and pharmaceuticals, which have been highlighted as major co-drivers market growth.
According to an India and US based market research firm, Grand View Research, the production and supply of honey depends on a country's climatic conditions; hence a number of regions, such as North and South America, Asia, and Europe hold the majority of production.
According to Grandview Research, China has emerged as a key exporter of honey to Europe and North America in the past few years, while Europe accounted for the largest market share of more than 34 percent in 2020.
The research noted that Europe is majorly self-sufficient as almost 60 percent of the honey consumed in the region is produced within the continent, according to the European Commission's statistics for 2020. In addition, major players in the region invest significant amounts in maintaining their production and supply chain.
Asia Pacific is anticipated to be the fastest-growing regional market from 2021 to 2028 as the presence of a large number of honey producers in some of its emerging countries, such as China and India, is expected to remain a favorable factor for the region's growth.
Meanwhile, for Africa, honey remains a neglected industry as most of its production is consumed locally. Several countries in the continent, including Ethiopia, Tanzania, Angola, Kenya, Central Africa Republic, Mali, Algeria, Morocco, Rwanda, Cameron, Senegal, Madagascar, Egypt, and Zambia are known as natural honey producers.
For Nigeria, production has always been export-driven for professional beekeepers, while producers from rural communities control the domestic market, along with some foreign products.
Another factor affecting the industry in Nigeria is lack of proper record keeping in determining the national production figure for the country.
In 2018, Mr. Dauda Abbas, the official in-charge of Apiculture at Audu Bako College of Agriculture, Kano State, said the current production of honey liquid in Nigeria was two million metric tons but the expected production could be over 20 million tons.
With the right investment the sector has the potential to meet the demands of the local market and has direct benefits to pharmaceutical companies, as well as the food and beverage segments.
While the importance of investment cannot be overemphasized, the development of the honey market in the country mirrors many other agricultural markets, where inefficient skills development, knowledge sharing and technological development are hindering growth of the sector, rather than access to finance.
With the varroa mite ravaging bees all over the world, Nigerian bees are known to be resistant to the varroa mite, which is an advantage to the country.
Speaking to our reporter in Owerri, a professional Apiculturist and the CEO of Apifloral Resources, Mr. Emmanuel Ubah, said Africa remains the only place where you can produce bees without using Amitraz, a chemical used in the beekeeping business.
"The chemical is used to suppress the growth of that varroa mite. It is a mite that transfers about eighteen viruses to the honeybees. It is here in our bee colonies but they do not harm our bees. It does not affect them. If you go to Israel, you cannot talk about bee production without using chemicals."
Encouraging Beekeepers to Harness Multi-billion Dollar Industry
He noted that it was because "Nigerian bees have a particular genetic quality to survive wherever there is a problem; they leave that environment to another place and begin afresh. But for the foreign bees, if there is a problem, they do not move, they die there with it.
"We ought to take the advantage of these characteristics which make our honey the best in the international market. It is only in Africa that you will see indigenous bees surviving without medicine," he noted.
Nigeria's Honey Industry Potential
Bee farming in the country is majorly characterized as underdeveloped with active players found mostly in the rural areas.
With Nigeria's domestic consumption rate of honey not specific, figures from the National Apiculture Programme put the figure at 380,000 tonnes in 2017, with a global price of about $4.5 billion, while Ubah puts the figure at 440,000 tons per annum.
However, the figures are not to be compared to Nigeria's annual import bill of €1.84 billion worth of honey, as stated by Mr. David Musa, general manager of Barg Natural Honey, Nigeria and consultant to the United States Agency for International Development.
Underscoring the importance of the industry, at World Bee Conference organised by the Nigeria-USA Chamber of Commerce in Cleveland, Ohio, the Consul-General of Nigeria in New York, Ambassador Lot Egopija, described bee farming as an untapped gold mine in Nigeria capable of generating more than $10 billion in annual revenue for the nation fragile economy.
Egopija explained that a barrel of honey cost more than a barrel of crude oil, which is currently Nigeria's black gold.
He noted that, "Bee farming is an untapped gold mine in Nigeria as a barrel of honey costs more than a barrel of crude oil. It is estimated that the industry can generate over ten billion dollars annually.
"In addition to honey, bee farming yields by-products such as beeswax, bee venom, and propolis that have industrial use in the pharmaceutical, food and beverage industries. Research has shown that quality bee farming is viable in the rural areas of at least eight states across Nigeria,'' he said.
Despite its import substitution abilities, its operation has been plagued by such factors like insect pests, diseases and pesticides poisoning, which experts said were responsible for the annual decline in honey bee colony establishment.
Also, in a study titled, 'Challenges Associated with the Honey Bee (Apis Mellifera Adansonii) Colonies Establishment in South Western Nigeria', by Akinwande Kayode and others, of the department of Zoology, University of Lagos, beekeeping has been part of the normal traditional agricultural enterprise of the Oyos in Okeogun and Tivs in Benue.
The study noted that honey production has always been on the decline and never satisfies local demand as bees' behaviour such as regular absconding and aggressiveness has contributed to low colony establishment and many people find it difficult to work with the bees or study them or rear the queens because they attack readily.
National Apiculture Programme
Despite the Executive order NO.002 of 2017 on the Ease of Doing Business to remove the bottlenecks inhibiting investment in Nigeria, the National Apiculture Programme, has not met its objective since the establishment by the then Minister of Agriculture, Audu Ogbeh.
But having hosted the largest Africa Apiculture Trade in 2018, which in some quarters the Ministry of Agriculture paid $5,000 to secure the bidding right in an effort to create the needed awareness for the industry, the sector has not witnessed a quantum leap to meet its expectation in terms of increase in production and supply and a reduction in price.
In addition, bee farming activities are currently in the rural areas as farmers still engage in crude ways of harvesting product through application of smokes and pesticides to disperse the bees.
Speaking at a national training on honey production, bee health and pollination, the director, Department of Veterinary & Pest Control Services, FMARD at the Africa Union Inter African Bureau for Animal Resources (AU-IBAR), Gideon Mshelbwala, had noted that the honey industry in Nigeria is very profitable with great potential that could be leveraged as the country strives to move away from a mono oil economy to a non-oil economy.
But unfortunately, he said the "sector still remains widely untapped as most beekeepers in the rural areas still use outdated techniques in production", as the primary interest and product of the industry is liquid honey which accounts for about 95 percent of the resources.
According to him, "Apart from inadequate or poor infrastructure, such as roads and access to farm input, most bee farmers cannot access inputs, rural services and extension information to take advantage of its growing demand. There is also an absence of coordination in the form of farmer's cooperatives to achieve scale," he stated.
Unethical Beekeeping Production Methods
According to Ubah, the honey in Nigeria are majorly sourced from the traditional bee keepers and they often use fire to harvest the honey, and "in that process the quality of the honey is diminished."
But as modern beekeepers, he stressed the importance of using an instrument called "The smoker" to obtain quality honey.
"We have not been able to produce enough for the entire population of this country. Nigeria consumes about 440,000 tons of honey per annum and we produce just ten percent.
"The gap is so much. The major problem we have in Nigeria is that people don't even know modern techniques in beekeeping. Some people don't even believe you can keep bees and produce honey.
The Hebrew University trained expert, who has spent much of his time on extension and training programmes, noted that "we train people and expose them to several opportunities in beekeeping.
"And in Nigeria today, I don't think there's an institution that offers beekeeping as a course. In Israel, Hebrew University offers it as a course from first degree to PhD. It is the only university of Dan salaam in Tanzania that offers it from first degree to PhD."
He warned that the majority of the honeys in the market are fake sugar syrups, especially those that are imported.
Product adulteration, reports have said, is one of the significant issues in the global market which has prompted major players to introduce products with more transparency and certifications to improve their sales.
"They produce it and give it an expiry date. Original honey can stay for three thousand years; it does have a shelf life. And the only way to be sure of what you are taking is to buy honey from a reliable bee keeper which few in the country.
"So we are trying to let the people know that we can improve our livelihood through the activities of beekeeping. We have over six products obtained from bees; we just sold some beeswax now. It has over three thousand and fifty of industrial uses," Ubah said.
He added that propolis is an antibiotic, anti-viral, anti- fungus, and kills over one thousand micro-organisms, aside other products like the pollen, wax and the royal jelly.
"But if we are using the traditional methods, we would not get these products because they burn the bees and destroy them; and at the end, what they get as honey is fake honey. Because by the time honey has been subjected to high temperatures, we have denatured the constituents and the nature of honey," he told THISDAY.
Enhancing the beekeeping Value Chain
Speaking recently, the Director-General, Raw Material Research and Development Council (RMRDC), affirmed the strategic contribution of the improving bee value chain in the post-COVID 19 economic growth in Nigeria.
"Beekeeping and honey production can substantially result in poverty alleviation and job creation in addition to the country being able to export experts in various aspects of beekeeping to other countries," he stated.
For this to happen, improving the value chain and regularizing the local farmers remains a critical factor along with standardization of the product to meet international markets as this will reverse the importation of foreign honey into the country.
Affirming the above, Ubah revealed that wax is presently unavailable in Owerri as honey bee shops are scarce unlike in western countries, noting that even where it exists they are owned by unprofessional practitioners or people that are not Apiculturists.
"Now in Imo state we have the Beekeepers Association, our major work is to sensitize people, enlighten people and let them know about the numerous benefits. People can be empowered, directly or indirectly, in the beekeeping business as there are lots of opportunities," he emphasised.
Nigerian and African honey remains the best globally in terms of its characteristics and benefits, prompting Ubah to acknowledge that in developed countries, bees are fed with sugar syrup, forcing producers to encourage consumers to exhaust the honey before expiration date.
According to him, if you do not take it before then, it will coagulate, crystallize and become very blocky, but "our own is organic and that is why the demand for African honey is very high."
On his party, a bee farmer at Solaj Honey Farms, Mr. Olarenwaju Olawunmi, noted that government intervention should be targeted at increasing the production and reducing cost to serve the local market, by providing more beehives and smokers.
"The best thing is to empower honey farmers to buy more equipment, boxes, and get more land in remote areas for beekeeping," he said.
Regrettably, bush burning remains the challenge in rural areas as they kill the bees or burn them before harvesting.
The threat of bush burning is when farmers cut down trees and set fire to them, causing the fire to escalate to other neighbouring lands.
Therefore making production capacity to depend on the number of beehives you have, and "at least in a year I can generate in addition with the colleagues I manage their farms over 5,000 liters year," Olawunmi disclosed to THISDAY.
Backward Integration Programme (BIP)
One of the key areas the nation can comparatively take advantage of its honey potential is in the food and beverages sector.
But with the heavy import bill for honey currently estimated at N3 billion yearly, it remains a big barrier to farmers in the country.
According to Grandview Research, food and beverages was the largest application segment for honey in 2020 and accounted for a market share of more than 70 percent in 2020 due to extensive usage of honey in bakery products, non-alcoholic beverages, and as a flavor in alcoholic beverages.
According to statistics from the Association of Master Bakers and Caterers of Nigeria (AMBCN), Lagos branch, a daily average of 600 bags of sugar (50kg) across 8,000 members is being utilized in the state.
Also statistics from the Nigeria Sugar Development Council (NSDC) revealed an upward trajectory of prices in the last three years occasioned by the fluctuation in foreign exchange rates.
Currently, Nigeria has a deficit in sugar consumption of about 1, 531,147(tons) and imports 1,513,147 (tons) at a cost of $433,406,293.00. The nation has only been able to produce 13,488, 25,000, 20,184, 14,918, 38,597 ton respectively since 2015 till date.
As Nigerians grapple with an increase in the price of bread to about 100 percent in the last three years, stakeholders in the industry have stressed the need to seek alternative ways to crash the incessant rise of food prices.
In an interview with THISDAY, the Lagos State Branch Chairman, AMBCN, Mr. Raji Omotunde, said the issue of plummeting prices of bread downward using honey can be an option in view of the backward integration policy once the issue of availability meets their demand on a daily basis.
According to him, "it a good idea but can it sustain the trend? We are about 8,000 members that use about 600 bags of sugar per day. Yes, we will welcome it because it is a very good idea and we love everything that is produced locally.
"Because part of the problem we are having in this country is that Nigeria solely depends on imported goods. So, if that can come up, it is a very good idea and we love it," he said.
However, Olawunmi noted that honey productions in the country are for the export market with forces of demand determining the market value.
On backward integration to help cushion the escalating price, he said honey was more expensive than sugar, noting that people that use honey to make bread use it to make special bread at a special price.
Responding to the variation in price of bread using honey, a consumer, Bola Bello, told THISDAY that the forces of demand and supply, awareness, choices will determine the price, but reiterated the need to use healthy ingredients.
"The price may be high for now, but as soon as more people begin to buy it, the price will crash. I will look to buy bread made of honey because of my health," she stated.
However, the government's BIP in other to intensified efforts to increase local production, increase job opportunities and provide foreign exchange through the domestication of identified priority products like Automobiles, Palm Oil, Dairy, Sugar, Cassava Starch and Cotton, Textiles and Garments (CTG), which excludes honey production continues to hurt honey dealers in the country.
Explaining her views, a local honey dealer in Ketu, a suburb in Lagos, noted that the country can become an investment destination if the comparative advantages of the nation's bees are recognized.
"Government must encourage beekeepers in the country by creating more awareness on how to produce enough for the local market. I travel to Taraba state from Lagos to get the honey I sell, which is my source of livelihood," she said.