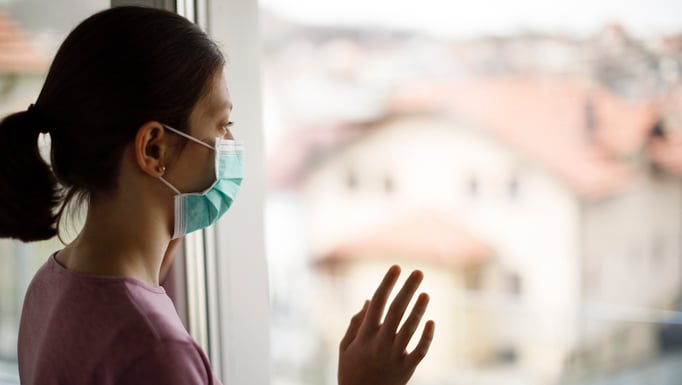 The coronavirus has taken the lives of 140,000 people in the US. And the death toll climbs each day. The death of a loved one is already a painful experience, but losing someone to COVID-19 is even more difficult.
People who died from coronavirus likely would have had spent their last few days in a hospital or quarantine facility. Many die without their loved ones present, so families aren't able to hold their hand as they pass.
Families also can't properly grieve and say goodbye to their loved ones. Before states started easing lockdowns, funerals weren't allowed due to physical distancing restrictions. Mourners aren't allowed to touch the body of a person who died from COVID-19 because there's still a possibility of virus transmission.
Funerals and the act of saying goodbye to a loved one during their final moments help the bereaved in coping with grief. When people can't properly grieve with other mourners, they're likely to experience a sense of ambiguous loss.
Ambiguous Loss and Complicated Grief
Ambiguous loss, or grief limbo, is when you lose something or someone without closure, leaving you searching for answers. This delays the process of moving on, and often results in unresolved grief. Ambiguous loss comes with plenty of unsettling emotions, such as frustration, loneliness, and helplessness.
In dire circumstances, the bereaved might develop complicated grief or prolonged grief disorder. Distinct from depression, prolonged grief disorder is characterized by a persistent bereavement. The person experiences grief so pervasive that it interferes with their day-to-day functions.
Coping with Grief Amid the Pandemic
Depression and anxiety are known to accompany prolonged grief disorder. In such cases, medication is administered to the bereaved to help manage the co-occurring symptoms. But psychotherapy is the standard treatment for complicated grief itself.
Psychotherapy can include family counseling sessions. Grieving children and adolescents often feel anxious, angry, distressed, depressed, and alone. Family therapy allows parents to help bereaved children and teenagers process and express their emotions in a healthy way. It also provides a safe space where kids can understand the meaning of death and what it means for their family moving forward.
Plenty of mental health professionals offer virtual counseling services if you're still wary about heading outside or if lockdown restrictions in your area haven't eased yet.
Those bereaved by COVID-19 are encouraged to reach out to peers, friends, and family who can offer support. It helps to grieve together with other mourners, even if you can't be with them physically. Mourners can provide each support through phone calls, video chats, or simple text messages.
Families can also explore options for burials and memorials when social gatherings are finally allowed in your location. Some cultures practice a prolonged mourning period with multiple observances, which may currently be impossible due to community quarantine guidelines. So, it may be necessary to modify your traditional burial or memorial practices.
In these trying times, be open to receiving emotional support offered by people close to you. Practice good self-care and don't neglect your physical health. Exercise, proper diet, and good sleeping habits can help improve your well-being, which builds your resilience. Seek help when necessary, including professional help from mental health experts.
Meta Title: Coping with Grief: When a Loved One Dies from COVID-19
Meta Description: COVID-19 has taken thousands of lives. Lockdown restrictions have made it difficult for families to grieve. These tips can help you grieve in a healthy way.
Tags: